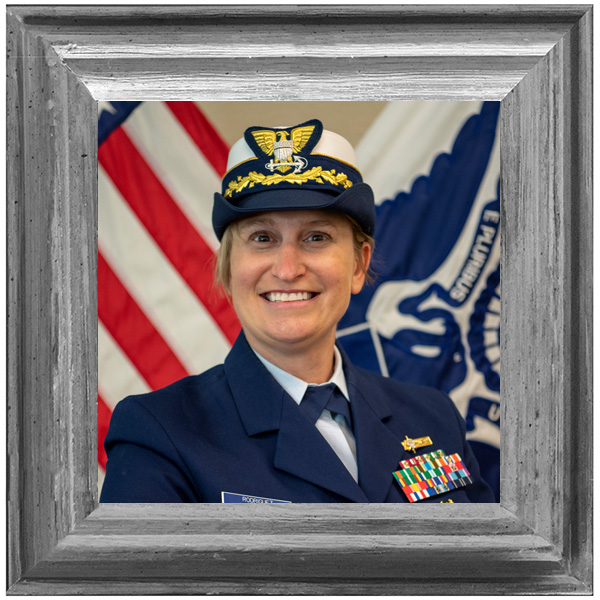 Nicole Rodriguez
Commanding Officer, Marine Safety Unit Lake Charles, LA
Commander Nicole Rodriguez assumed command of MSU Lake Charles in June 2021 where she serves as Field Commander representing MSU Port Arthur in execution of Captain of the Port, Officer in Charge of Marine Inspection, Federal On-Scene Coordinator, and Federal Maritime Security Coordinator authorities. Commander Rodriguez oversees maritime operations over an 8,400 square mile area of responsibility in Southwest Louisiana including Cameron Parish Port, Harbor & Terminal District, West Calcasieu Port, and the Port of the Lake Charles, the 11th busiest tonnage port in the nation.
Prior to assuming command of Marine Safety Unit lake Charles, Commander Rodriguez served as Chief of Prevention for Sector Houston-Galveston where she oversaw foreign and domestic vessel compliance, port facility safety and security, ports and waterways management, aids to navigation, and marine causality investigations for the largest petro-chemical port in the United States.
Previous staff tours include assignment as Chief of Inspections and Investigations for the Eighth Coast Guard District headquartered in New Orleans, where she was responsible for the District's marine safety, security, and stewardship initiatives for 26 states including the inland waterways system and Gulf of Mexico. Additionally, she served as Program Reviewer for the Coast Guard's Human Resources directorate, the Offices of Shore and Boat Forces, and Search and Rescue Directorate while assigned to the Office of Budget and Programs at Coast Guard Headquarters in Washington, D.C.
Sessions Featuring Nicole