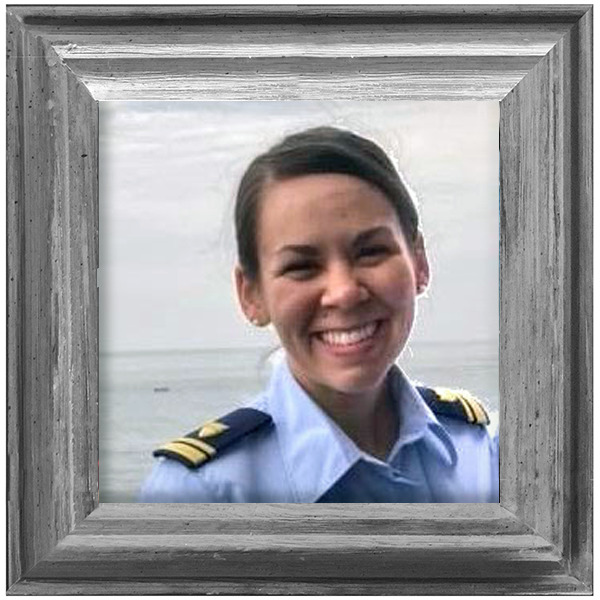 Chellsey Phillips Canlas
Search and Rescue Command Duty Officer
United States Coast Guard
Chellsey Phillips Canlas began her Coast Guard career at 18 in Louisville, KY as a Marine Science Technician. Chellsey has remained dedicated as a responder to emergencies. Qualified as a Western River Flood Punt operator, volunteering with the Red Cross, and responding to aid communities post natural disaster, Chellsey is no stranger to the impact of large scale incidents.
Previously stationed onboard USCG Cutters RUSH and SHERMAN, Chellsey facilitated secure and encrypted communications behalf of the Living Marine Resources mission. After sailing on USCG Cutter Barque EAGLE while attending Officer Candidate School, Chellsey continued specializing in Response Ashore. Leading Law Enforcement and Incident Management teams, she managed small boat stations, maintained cutter schedules and facilitated pollution cleanup initiatives in Portland, Maine.
Her qualifications include Boat Crew Member, Radio Operations Afloat, Boarding Team Member, Facility Inspector, Pollution Responder and Operations Unit Controller. With a wealth of experience in the Incident Command System (ICS), she a certified NIMS Type 3 Public Information Officer, Agency Representative and Division/Group Supervisor.
In her current role as Command Duty Officer, her team prosecutes Search & Rescue, Marine Safety and Marine Environmental Protection cases from Freeport to High Island, TX. Chellsey has a Bachelor's and Master's Degree in Social Work. Currently, she is completing her tour at the Sector Houston-Galveston Command Center prior to attending a sponsored post-Graduate program at University of Houston.
Sessions Featuring Chellsey