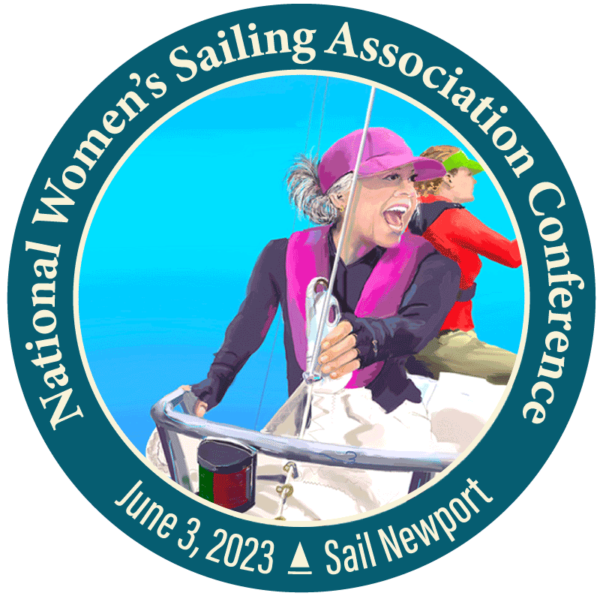 Learn • Network• Take the Helm
National Women's Sailing Conference
Learn • Network • Take the Helm®
1/2 DAY, 1/2 price. Full of fun! Half day experience still available.
The National Women's Sailing Association's (NWSA) 2023 Women's Sailing Conference Saturday is June 3, 2023 from 9:15 am – 5 pm at Sail Newport. Half-day in-person tickets must be purchased in advanced.
Virtual tickets may be purchased until July 1. Videos may be viewed anytime until July 3.
Workshops taught by experienced instructors and Captains from across the nation. Beginners to experience sailors can get their hands-on marine electrical components, practice navigation using paper, learn the depth of informaiton avaiable in AIS the newest tool for recreational boathing safety, gain conversational basics to talk like a sailor, or participate in a sewing DIY workshop.
There's still something for every sailor!
Can't make it to Rhode Island? Virtually you'll have access to over a half-day of online programming including a panel discussion, topics for beginners to advanced sailors, racers, do-it-yourselfers and ocean sustainability advocates. Click the Virtual filter at top left above the schedule to filter for virtual only.
Featured Speakers
Programming includes a full day of classroom and on-the-water workshops taught by experienced female instructors from across the nation. Fine tune sail trim, learn hands-on diesel maintenance, practice navigation using paper or electronic charts, try proven techniques for women to rescue overboard crew and more.
Fundraising Raffle Brunch

Join Us at Elks Lodge
SUNDAY JUNE 4 9a-11:30a
Come share a delicious Brunch with your sailing friends and help us raise funds for our ongoing programs like AdventureSail and our youth sailing scholarships. Open to everyone! Advance tickets required. Find them under "Buy Tickets"
For more information please contact us:
conference@womensailing.org