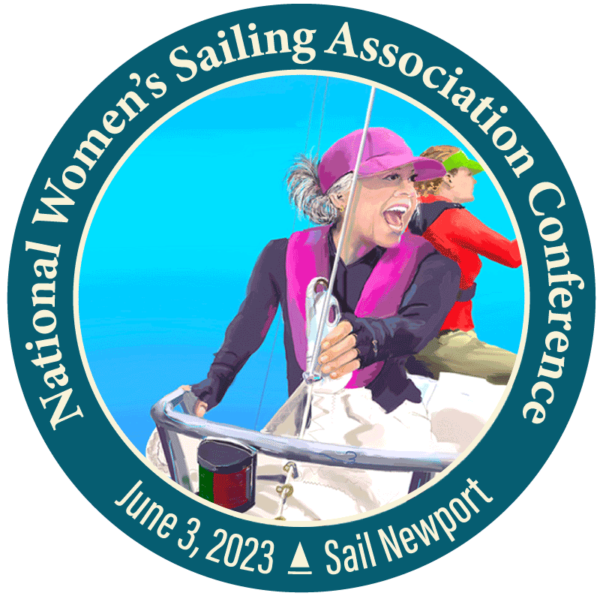 Learn • Network• Take the Helm
National Women's Sailing Conference
Learn • Network • Take the Helm®
EARLY BIRD REGISTRATION OPENS APRIL 1 FOR NWSA MEMBERS - $50 off with valid coupon at checkout.
General Registration opens April 17.
Browse the schedule, become a member, come back and register!
The National Women's Sailing Association (NWSA) presents the 2023 National Women's Sailing Conference Saturday June 3, 2023 from 8 am – 5 pm at Sail Newport with a Fundraising Raffle Brunch on Sunday, June 4 at The Elks Lodge.
JOIN US for a full day of classroom, dockside and on-the-water workshops taught by experienced female instructors and Captains from across the nation. Fine tune your sail trim skills, get your hands-on marine electrical components, practice navigation using paper and electronic charts, learn when and how to execute a distress call or maneuver to retrieve a crew-overboard or participate in a sewing DIY workshop. We will also be offering the popular Take the Helm® track - an introduction to sailing for women.
There is something for every sailor or want-to-be sailor including breakfast and lunch on us!
A highlight of the event is the announcement of the recipient and the presentation of the 2023 Leadership in Women's Sailing Award, which is co-sponsored by NWSA and BoatUS.
The Fundraising Brunch on Sunday is open to everyone! Bring a friend and donate to win one of our wonderful raffle items. Your important financial contributions to this event help support the continuation of our AdventureSail® program and youth scholarships.
If you can't make it to Rhode Island, consider joining us virtually. We will have elements of the conference that will be offered online including panel discussions covering topics for cruisers, racers, do-it-yourselfers and ocean sustainability advocates.
Featured Speakers
Programming includes a full day of classroom and on-the-water workshops taught by experienced female instructors from across the nation. Fine tune sail trim, learn hands-on diesel maintenance, practice navigation using paper or electronic charts, try proven techniques for women to rescue overboard crew and more.
Fundraising Raffle Brunch

Join Us at Elks Lodge
SUNDAY JUNE 4 9a-11:30a
Come share a delicious Brunch with your sailing friends and help us raise funds for our ongoing programs like AdventureSail and our youth sailing scholarships. Open to everyone! Advance tickets required. Find them under "Buy Tickets"
For more information please contact us:
conference@womensailing.org